The procedure is carried out while the patient is under anesthesia to avoid pain and stress. We only gain access through the oral cavity in order to avoid external scars.
Special low-impact techniques are used, allowing the patient to open his/her mouth immediately after the procedure. Speaking, eating and oral hygiene are hardly affected.
Our clinic uses ultrasound instruments for a low-impact separation of the bones, electric wire loops for blood-free preparation and a special technique, developed by us, for separating the tooth-bearing lower jaw section from the joint section without damaging the lower jaw. The bone is moved under contact, avoiding larger gaps.
All these measures help us keep swelling to a minimum, shorten the inpatient stay and allow quick recovery.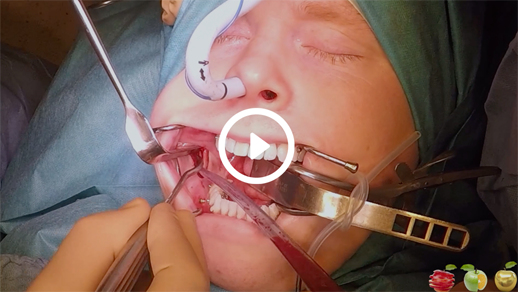 The special surgical technique, in conjunction with the surgeon's expertise and our well-rehearsed team reduces the corrective surgery down to approx. 60 minutes.
If both jawbones are corrected, the surgery takes approx. 120 minutes. Thanks to the particularly low-impact surgery, no blood products are needed. Desired results are generally achieved with one surgical procedure.