Common types of dysgnathia
Underbite/overbite/facial asymmetry
facial asymmetries
Repositioning the upper or lower jaw to create an optimal overbite and profile normalization. Combination of upper and lower jaw surgery (maxillomandibular realignment)
Characteristics and complaints
Facial asymmetry is characterized by an extreme deformity of the bone tissue, e.g. caused by an accident or a congenital condition. The final result is a misalignment of the chin and nose. The term facial scoliosis is used in this case. Those affected often suffer from severe malformations. Furthermore, dysfunctions from the jaw all the way to the spine are typical. Asymmetry is considered to impact facial aesthetics.
The corrective surgery
The upper and lower jaw generally have to be realigned to recreate facial symmetry.
Advantages of our surgical procedure
no exterior skin incisions
no jaw wiring
short surgery and short hospitalization
no blood products
no repeat surgery
Procedure
Combination of upper and lower jaw surgery Maxillomandibular realignment (in the case of scoliosis)
The upper and lower jaw realignments are carried out in a single surgical procedure. There are many reasons for this surgery. In most cases, facial proportions are asymmetrical, and complaints arise and cause pain when chewing or biting. Nasal breathing is often limited, and the mouth is dry and tense in the morning.
The aim of surgery is to ensure proper occlusion with symmetrical facial proportions. This improves breathing and enables lip closure. The procedure is carried out while the patient is under general anesthesia. Thanks to this minimally invasive surgical technique, you can eat, drink and brush your teeth any time.
Complications rarely occur during this procedure. If indicated, the costs of surgery and orthodontic treatment will be covered in part by statutory health insurance.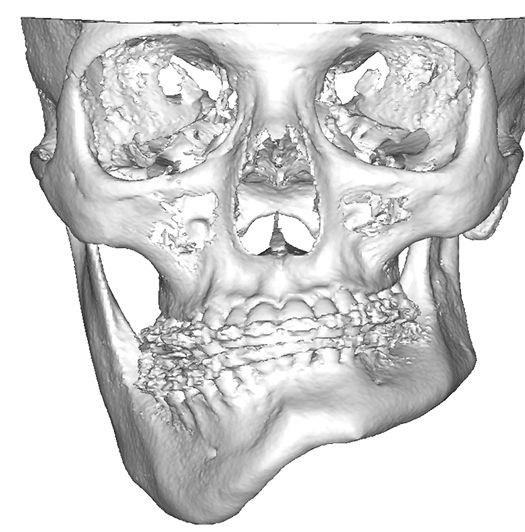 Procedure
Maxillary impaction is carried out once the orthodontist has shaped the dental arches and made plans for surgery. The impaction is carried out exclusively via the oral cavity to avoid external scars. The upper jaw is loosened, shortened and then fixed in its predetermined position using mini plates. The lower jaw then "swings" forward (autorotation), partially compensating for the overbite. Oftentimes, the lower jaw will still need slight realigning.
The inpatient stay lasts 5 days. Either the orthodontist or our team will carry out a weekly follow-up during the first 6 weeks post-surgery. Final adjustments are made at this stage.
If indicated, the costs of surgery and orthodontic treatment will be covered in part by statutory health insurance.
What should I pay attention to?
Cool the area often and well during the first three days
Good oral hygiene (children's toothbrush, mouthwash)
Smoking can compromise the distraction result - smoking is prohibited!
Do not blow your nose for at least 2 weeks
Do not use arnica prior to the surgery and no aspirin before or after the surgery!
Only eat soft foods for approx. 6 weeks post surgery (e.g. pasta)
Physical exercise should be avoided for 6-8 weeks during the healing phase
Possible post-op
complaints
Due to general blockage in the nose, nosebleeds can occur up to 4 weeks post-surgery
Mild reversible numbness in the upper lip
Swelling goes down by 2/3 after approx. 2 weeks. Residual swelling can occur up to 4 months post-surgery
Orthodontic treatment/maxillofacial surgery Treatment timeline
Potential pre-surgery given crowding:
Upper and/or lower jaw expansion
RPE | Mandibular distraction 8-12 months Orthodontic
pre-treatment
Main surgery
Corrective jaw surgery
+ 6 weeks + 4-6 months Orthodontic
aftercare + 6 months Healing phase
Surgical
removal of plates, if need be
Total treatment timeline approx. 1.5 - 2 years